BECOME YOUR
TRUE

YOU


BEAUTIFUL, CONFIDENT, POWERFUL!

SIGN UP FOR SANDI'S INSIGHTFUL
TRUE COLOR ASSESSMENT GUIDE
IT'S FREE!
To receive your free gift from Sandi, please tell us a little about you:
Dee
I feel great!
I feel empowered!
I feel like I learned a lot.
... It's about time!
- Dee
Pamela
My day with Sandi was so affirming! I am so appreciative of all that I have learned and the ease and confidence with which I can now shop and create my best looks. What a time saver to know which colors to work with instead of being overwhelmed with huge selections at department stores. Knowing my "TYPE" provides a foundation for saving time and money; simplified stress-free shopping; assurance at the hair salon and the makeup counter; plus feeling great! Repeatable magic, and such a fun day - thank you Sandi!
With appreciation, Pamela
Amanda
I really want to thank Sandi for her insight, genuine spirit and common sense approach. True You Makeovers has stream lined my shopping to allow me to zero in on my 'family' of hues, shapes & textures. I feel more comfortable in my skin allowing my confidence to show through. I am happy to feel the integration of who I am & my style. I've enjoyed my experience thus far and I am looking forward to the next steps towards my complete transformation. I am even viewing my house & surroundings differently, noticing when things don't really 'go' and always asking how can I improve this? I didn't realize how transformative this experience would be, I am thrilled I gave myself this opportunity. Thanks again! - Amanda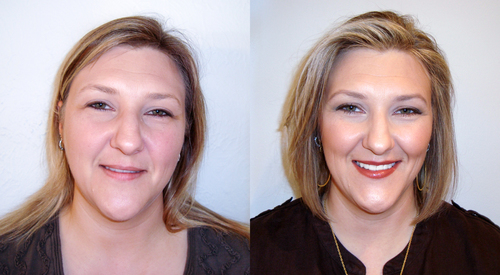 Kimberlee
I thoroughly enjoyed the process of learning my best colors including the entire morning of no's from Sandi for the colors I usually gravitate toward. I wore one of the new pieces put together with some items I had in my closet the next night to a social function. As I was leaving the event I overheard several women commenting on how great I looked and how pretty the colors were on me. Needless to say I smiled all the way home. Thanks so much! -Kmberlee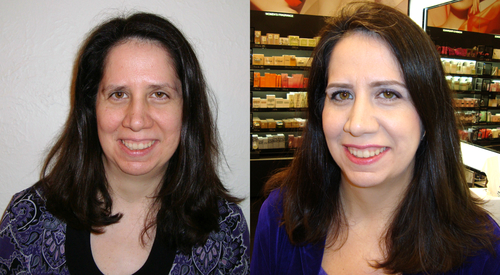 Dedra
I've learned a lot in this process about what works and what does not and that gives me an extra boost of confidence. My friends and associates have noticed the changes and I've received many unsolicited compliments. I now look forward to shopping for clothes that are more ME - no more compromising! I am able to scan quickly and know what works best for me and that saves me time and frustration. I learned that I can actually wear some colors I thought I could not. I never thought I would wear make-up and I have learned how to do so with confidence. It is worth the extra time and effort and I have noticed that people are responding to me differently. Thank you Sandi! - Dedra
Linda
Sandi, I feel so blessed to have the opportunity to have your guidance in discovering 'me' and allowing myself the time to change & grow. Thanks for all your encouragement and words of wisdom, I am listening and trying to take in as much as I can. I had a wonderful time during our shopping session and was excited all over again when I looked at my purchases when I got home; we did good! There's no doubt in my mind that we will do even more great work together! Best Regards - Linda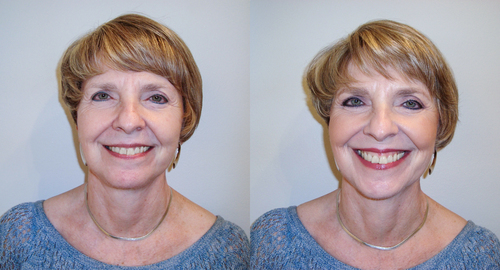 Candy
Recently, as I was standing in front of the mirror in our bathroom, getting ready for work in my gray slacks, muted blue cowl-neck top, silver jewelry, hair and make-up done, my hubby walked up behind me and said, 'Your colors?' I replied in the affirmative. He said, 'It even works from behind!' Good to know!!! Later the same day, a guy in my department (young enough to be my son) said, 'Would you be offended if I told you that you're looking really hot?' So this TYM makeover stuff really DOES work!! - Candy
Lori
Sandi is remarkable at this!
She is naturally gifted and her intuition is right on. It truly is 'Feng Shui for the body' that works with whatever you are trying to accomplish...
I didn't have to do the work!
Sandi does it all... and she is great at it!
- Lori
Karen
Sandi helped me clarify looks and colors that make me come alive. I felt younger when I put on something that made me feel like a "10"! It was a confirmation of clothing and colors I'm already attracted to and confidence to follow that knowing. Now, I will shop for only those items that make me feel like "10" when I put them on and I'm sure I will spend much less time shopping! - Karen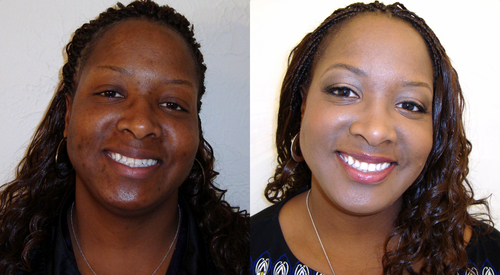 Terri
Dear Sandi, I really enjoyed my True You Makeovers Personality Typing and Shopping session with you. Although I may have to hide the receipt from my husband, I look absolutely fabulous and I'm worth every cent! Thanks for the great experience and I'm truly looking forward to our next consultation! - Terri
Debra
Sandi, Thank you! What you are doing is truly a gift. KEEP DOING IT! Keep passing this gift to women who, like me, thought that our time of being vibrant and dynamic was just a distant memory. I am excited about finding out what other doors your knowledge and support will open for me! All the best, Debra
Ingrid
My transformation began when I said 'Yes' to a True You Makeover. There is nothing more profound or more vulnerable than allowing someone else to take your hand and guide you through a transition of Self. I began with a hesitant need for control. Was I going to lose myself? Was I going to allow my perception of 'pretty girls' to change by becoming one of them? Yes, to everything yes!! I feel beautiful and more present in my skin with the new hair-style and makeup that I now apply myself. Thank you, Sandi for everything you helped me to discover and for the things I have yet to discover still! - Ingrid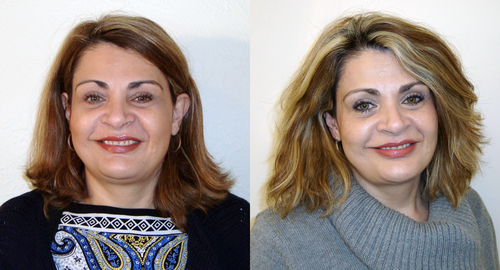 Adriana
Dear Sandi, Ever since beginning my True You Makeovers process, I'm feeling more confident, beautiful and much more secure when I have to choose what to wear. It didn't come all at once, it is something that you start to incorporate in your life, a new way to see yourself and to see color. To me it has been very interesting because I'm a Mixed-Media artist and I believe that even my art may change as a result! You asked about my energy and yes it is different, I'm happier, I'm feeling more free, I would say more clean. I believe my Chi is changing and becoming brighter, cleaner and happier! Thank you! - Adriana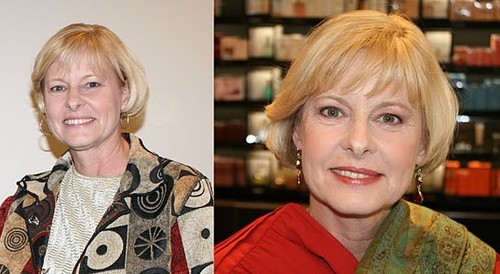 Diane
In my life, time is a precious thing. With True You Makeovers, I learned how to scan the racks of clothes and only select the colors and styles that were right for me. It takes practice, but I'm getting better at it all the time! I used to waste time and money buying clothes just because they fit and were on sale. With TYM, I learned that buying things I really loved not only made me look better, it also made me feel better each time I wore them. - Diane